We're proud to unveil the To&Through online data tool, designed and built by Inquirium. The first of its kind, this interactive website was created to help every degree-seeking Chicago Public Schools (CPS) student achieve their goal by helping educators, parents, and policy-makers understand the factors that impact academic attainment from freshman year through college graduation. The site launched to the public on Sept. 20.
Check out the To&Through online data tool here.
One of the key goals of the website is to make data on educational attainment available to everyone, not just data nerds. Parents and students can use it to compare high schools, teachers and school practitioners can use it to measure their performance, and college counselors can use it to help students choose colleges where they are more likely to receive the support to graduate.
The website highlights the key milestones that matter most for students' high school and college success: Freshman On Track, high school graduation, college enrollment, college persistence, and college graduation. Users can visually follow the outcomes of each milestone, examine trends, and explore breakdowns by demographics, qualifications, and risk & opportunity levels.  They can also compare the results for their school to schools with similar characteristics and to district-wide benchmarks. Filtering allows users to dive into even more detail, breaking the data down by gender, race, GPAs, etc.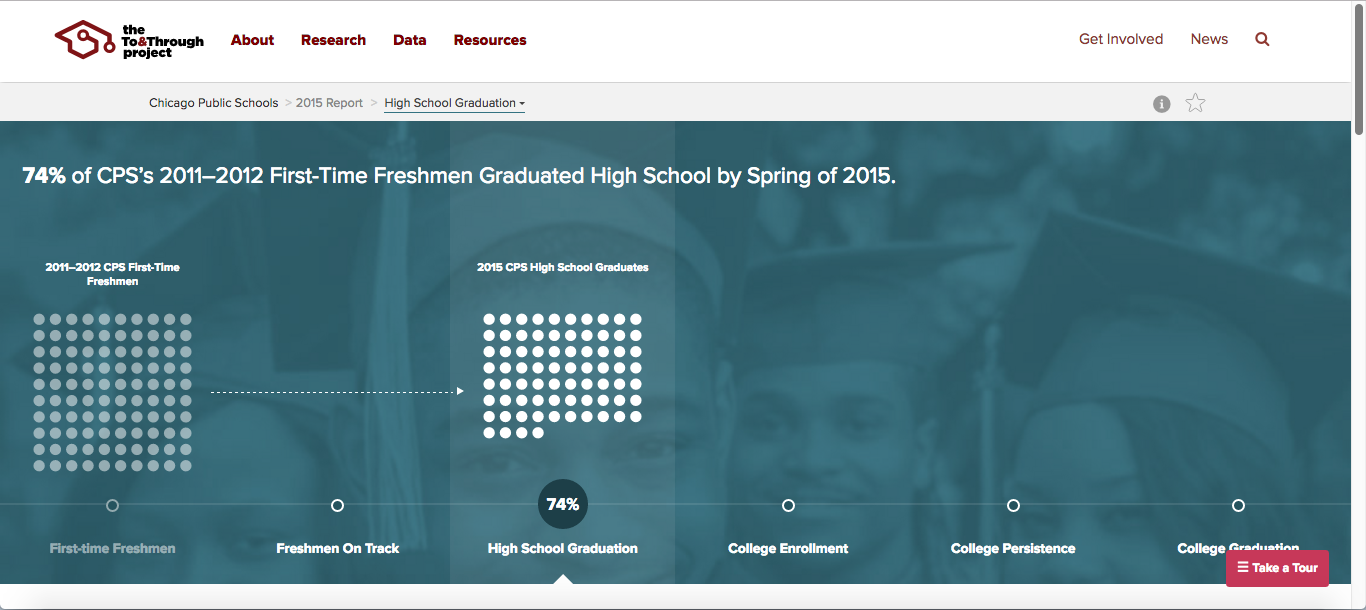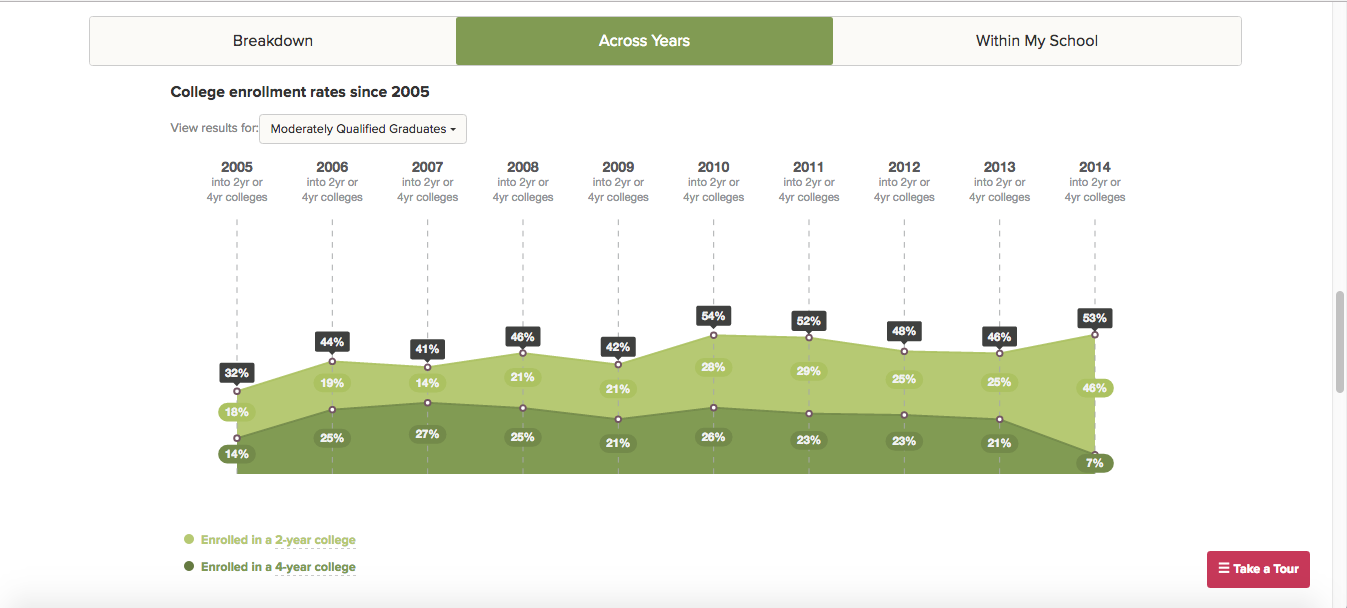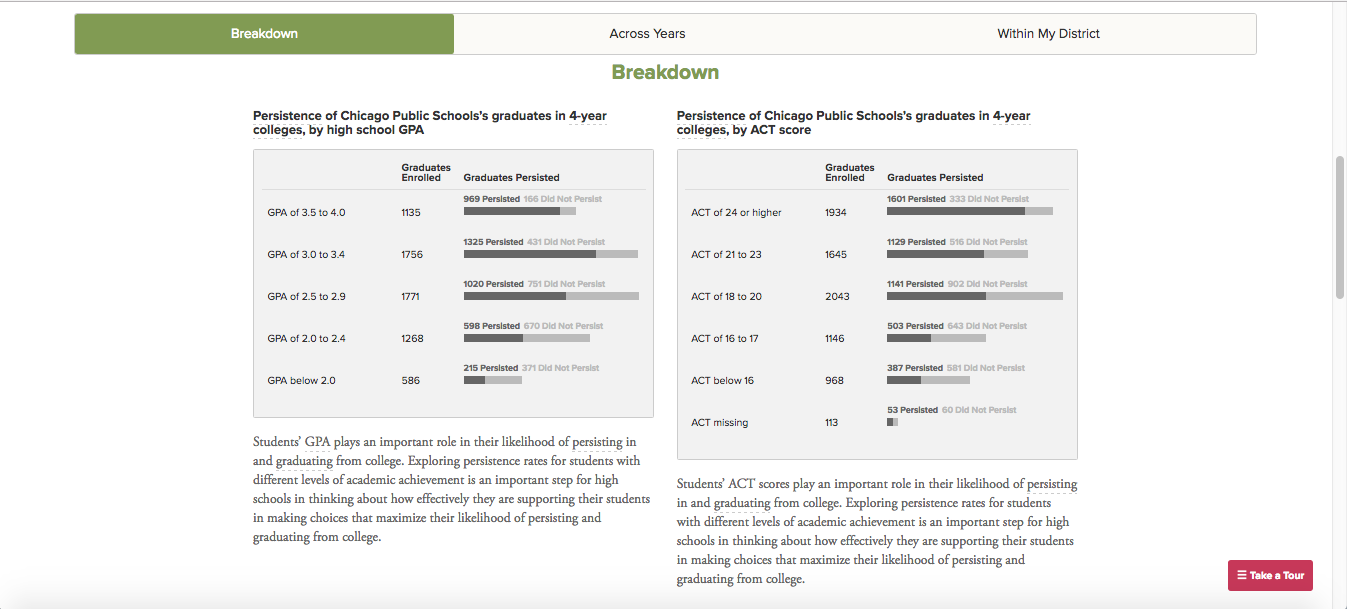 The launch was covered by Crain's Chicago, who wasted no time sharing insights based on their own data digging:
"While graduation rates were rising, college enrollment rates for CPS students increased to 42 percent from 33 percent (vs. a 44 percent national average) between 2006 and 2014. Among CPS graduates who started college, the college graduation rates inched up four points to 50 percent (vs. 60 percent nationally)."
Beyond end-users, the tool also supports the ongoing work of the University of Chicago. The website has special staff tools to support the import and validation of new datasets, the management of downloadable reports, and the ability to author customized interactive tours, which guide users through "narrative dives" through the website, tailored to specific topics of interest.
This project was a perfect fit for Inquirium. Since our founding in 2001, one of our primary missions has been to help students, educators, and educational policy makers find meaning in complex data. We integrate the power of data visualization with techniques in narrative storytelling to help make otherwise invisible patterns visible. The To&Through data tool gives people, who wouldn't otherwise have access to this powerful research, information they can use to make informed decisions that directly impact students' educational progress.
The To&Through Online Data Tool was designed and developed by Inquirium for the University of Chicago Urban Education Institute (UEI) and UChicago Impact in conjunction with the Network for College Success. We worked closely with our clients and school-based educators to create a user interface that presents the research in ways that practitioners find actionable, including custom visualizations that tell meaningful stories. On the back-end, we developed a technical infrastructure that supports the client's ongoing research.
We plan to continue refining the site as UEI and CPS stakeholders find new ways to use the data to help students achieve their educational goals. Read more about the To&Through project goals, and if you're interested in trying out the data tool, we recommend taking a tour by clicking the friendly red button on the bottom right here of the data tool's landing page (you can even customize the tour to a school of your choosing).
Questions about our role with To&Through? Want to get in touch with us? Send us an email at info@inquirium.net.